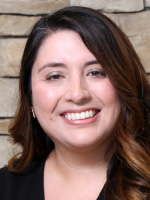 Kristina Broyles is an Audiologist at Midwest Hearing Aid Center, LLC. Dr. Broyles is dedicated to providing compassionate and outstanding care to her patients. She enjoys treating patients of all ages, from young children to older adults.
Dr. Broyles holds a Certificate of Clinical Competence from the American Speech-Language-Hearing Association and is licensed by the state of Kansas. She received her Doctorate in Audiology from the University of Wisconsin-Madison and completed her Clinical Fellowship at the Kansas City VA Medical Center in Kansas City, Missouri. Prior to her Audiology career, Dr. Broyles was a middle school math teacher in Albuquerque, New Mexico.
Dr. Broyles and her husband have two cats and one dog. She enjoys cooking and baking. Her family enjoys football, camping and playing board games.