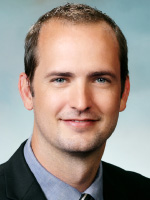 Guerin M. Smith MD, is a board certified otolaryngologist, focused on providing excellent and compassionate care to patients in Olathe and the Greater Kansas City communities. He attended the University of Nevada, Reno as an undergraduate followed by medical school at the University of Kansas Medical Center. He completed a five-year residency in otolaryngology at the University of Louisville in 2020 prior to joining Midwest ENT. Empathy and shared decision-making are core principles of his practice.

Dr. Smith is interested in the entire spectrum of otolaryngology practice. He enjoys treating patients of all ages, from young children to older adults. He is especially interested in allergy and sinus, thyroid and parathyroid disease, oral cavity and oropharyngeal benign and malignant disease. He treats a broad spectrum of acute and chronic ear disease in both children and adults. This includes otitis media and externa, ear perforation, hearing disorders, cholesteatoma vertigo, and sudden hearing loss.

Dr. Smith's young family includes his wife and son. He is happy to return to the Kansas City area where he was raised. He enjoys playing tennis, biking and camping with his family.