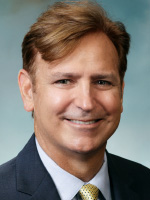 David Hill MD, FACS, is a board certified otolaryngologist and Fellow of the American College of Surgeons providing personalized and compassionate care to patients across the Kansas City metropolitan area. From Mobile, Alabama, Dr. Hill completed his undergraduate training at Vanderbilt University, and medical school training at The University of Alabama. He then completed his residency training in general otolaryngology at the University of Kansas Medical Center. Dr. Hill believes that relationships built on trust and communication provide the best environment for medical care. He welcomes patient questions and it is important to him that his patients understand their illnesses and treatment plans, and are involved in the medical decision-making process.
Dr. Hill's clinical interests are broad, but he is especially passionate about pediatric otolaryngology, as well as adult sinus and allergy disease, and thyroid/parathyroid disease. Dr. Hill uses innovative and minimally invasive techniques in his office to treat sinus patients, often avoiding the expense and risk of general anesthesia in the hospital setting.
Dr. Hill is married and he and his wife are fortunate to have three sons. He enjoys hiking, fly fishing or doing just about anything with his family. He also writes country and pop songs for artists in the Nashville, Los Angeles, New York and Canadian radio markets.