Kelly Schmidt, AuD, CCC-A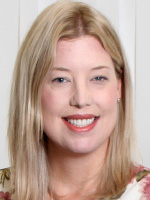 Kelly Schmidt is the audiologist at Midwest Hearing Aid Center, LLC. She holds a Certificate of Clinical Competence from the American Speech-Language-Hearing Association and is licensed by the State of Kansas and Missouri to practice audiology.
Dr. Schmidt received her Doctorate in Audiology from the University of Kansas Medical Center of Kansas City, Kansas and completed her Clinical Fellowship at Boys Town National Research Hospital of Omaha, Nebraska. Following her fellowship, Dr. Schmidt worked as a cochlear implant audiologist in Chicago, Illinois.