Janna Weber, AuD, CCC-A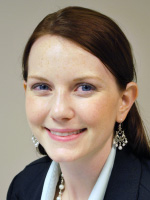 After receiving her bachelor's degree from Kansas State University, Janna Weber completed her Doctorate of Audiology at the University of Kansas Medical Center. She maintains her Certificate of Clinical Competency in Audiology that was granted to her by the American Speech-Language-Hearing Association. Additionally, she holds a State of Kansas Audiology License.
Prior to joining Midwest Hearing Aid Center, LLC, Dr. Weber worked in the areas of cochlear implants, auditory processing disorder evaluations, traditional and bone-anchored hearing aids, and diagnostic audiologic and vestibular/balance testing. Dr. Weber enjoys learning and strives to stay up-to-date on new research and hearing aid technology. Her favorite part of audiology is providing hearing impaired and tinnitus-suffering patients a better quality of life by fitting hearing aids and tinnitus management devices.